Fanalysts Rod and Eric guide MSU fans through all things Michigan State basketball in this unique podcast focused exclusively on Spartan hoops.
The Final Four is Not on the Schedule
The Final Four Is Not on the Schedule is a dedicated podcast to Michigan State University basketball. Created in 2016, the show is the preeminent stop for any serious or casual MSU basketball fan. The shows provide in depth pre and post game analysis, recruiting news and updates, and interviews with notable Spartans and journalists.
If you would like to request an interview with one of the hosts, please contact us at: tffinots@gmail.com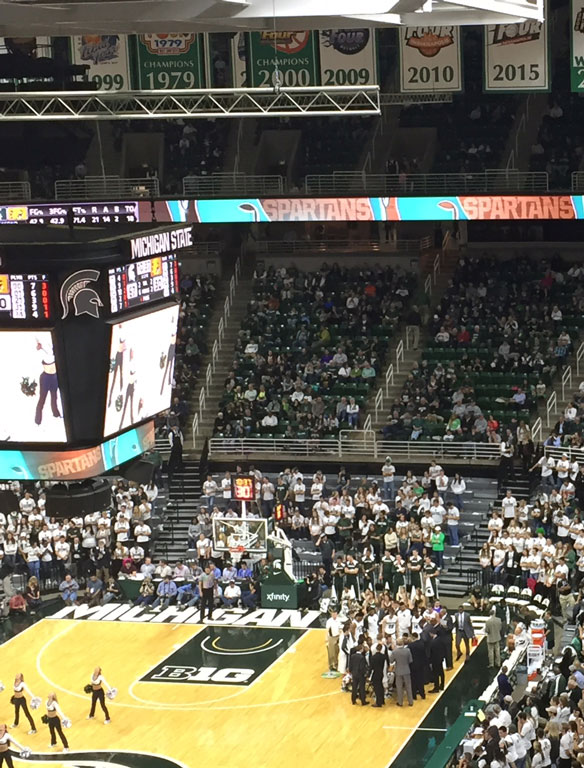 Eric is a lifelong Spartans fan and remembers attending games at Jenison Fieldhouse before there was a 3 point line. A season ticket holder and experienced podcaster Eric brings his unique perspective as a dedicated fan to the show.
Fun Fact
Eric's side gig is as a physician anesthesiologist in West Michigan and holds a degree in nuclear engineering.
Favorite MSU Memory
Attending the 2019 regional final in Washington, DC where Kenny Goins hit a three to beat Duke to make the Final Four.
Rod is also a lifelong Spartan fan. His first game was at Jenison
Fieldhouse in 1978, watching Earvin Johnson and Co. beat Ohio State.
Fun Fact
Rod has a Gold record plaque in his name (for his involvement in management
of an artist, not the music itself!).
Favorite MSU Memory
Earvin Johnson, Greg Kelser and all the rest of the 1979 National Championship team beating Larry Bird and Indiana State in the title game.
Never Miss an
Episode
Be sure to sign up to our email list to get reminders when new shows drop and for any special offers and events.
Be sure to sign up for our free discussion board where we discuss news, recent and upcoming games, recruiting, and more. For the serious and casual MSU fan.